Without exaggeration, Miami, uniquely, appeal to virtually any one, from any part of the world. Besides being "a paradise on earth" with its magnificent white-sand beaches, and turquoise waters, Miami is reach with architectural, historical, and cultural landmarks. In addition it offers top in the world entertainment, exclusive shopping, and gourmet dining. Early December through mid of April, are the busiest months for Miami hotels and vacation apartments. Snowbirds from Canada, winter-escapees from Argentina and Brazil, and Miami-lovers from everywhere – jet, drive and cruise to this tropical jewel for celebration time.
Here is our list of 7 places to encounter Holiday cheer during you Miami Vacation this winter.
Santa's Enchanted Forest
When: Now through January 7
Where: 7900 SW 40th Street, Miami, FL 33155
Miami glows brighter than ever, when the palm trees get their Holiday attire. But don't miss an opportunity to see a 92-feet tall Christmas tree, the tallest one in South Florida, and a show of 3 million lights, in the world's largest holiday theme park, - Santa's Enchanted Forest! Dive into holiday spirit and enjoy music, food, carnival and rides for entire family.
George Balanchine's The Nutcracker
When: Now through December 24
Where: Adrienne Arsht Center for the Performing Arts, 1300 Biscayne Blvd, Miami, FL 33132
The world's most beloved fairy-tale, of the young Clara and her Nutcracker Prince evolves in an all-new production by, Isabel and Ruben Toledo. Enjoy iconic Balanchine's choreography and timeless Tchaikovsky's masterpiece, in a brand new sets and costumes. The magical performance of acclaimed Miami City Ballet is "a must see" this season.
Holiday Evening at Vizcaya Museum and Gardens
When: Now through December 23
Where: 3251 South Miami Ave, Miami, Fl, 33129
A Visit to this museum is always enchanting, but during December it is particularly special. Since Christmas of 1916, when James Deering came to estate, each year, and now for over 100 years, Vizcaya decorates the Main House. Stroll through the gardens and marvel at the main house festive decor. On December 14, Join A Holiday Evening at Vizcaya Village to celebrate the tradition. Enjoy organ music, and sweet delights to complete the experience.
Gulfstream Park's Symphony of Lights
When: Now through December 31
Where: Gulfstream Park, 901 S Federal Hwy, Hallandale Beach, FL 33009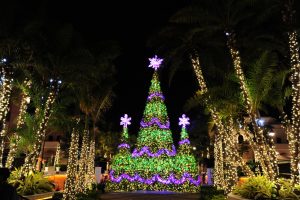 Another year Gulfstream Park's Symphony of Lights is spreading a true holiday cheer. Bring in your entire family to see a 50-feet toll Christmas beauty and thousands of lights glowing in harmony with holiday music. Entertainment for all ages is on every night, till the New Year's Eve. Through December 23, every Friday and Saturday enjoy extra fun activities like Juggling Acts, still walkers, face painting and much more.
Go on a holiday shopping spree
When: Now through December 24
Where: Aventura Mall, 19501 Biscayne Blvd, Aventura, FL 33180
Shop latest fashion and last minute holiday gifts at Aventura Mall! Enjoy a day in holiday chic décor, see Ginger Bread house, Reindeers, Santa's workshop and Twinkling snowfall, to add a happy frost to your holiday spirit. Strike a pose for a photo with Santa, to keep fun memories of the day.
Zoo lights
When: Now through December 31 (Every Friday and Saturday)
Where: 12400 SW 152 St, Miami FL, 33177
Mark high on your schedule, a visit to the Zoo during you Miami Vacation, this season. Thousands of lights instill an amazing atmosphere around the entire park. Giant animal shapes twinkle in the night, creating an illusion of movement. Wonder through illuminated pathways, snap a photo with Santa, or get a souvenir at the Zoo gift shop, Holiday music, yummy treats, carousel rides and tons of seasonal activities to celebrate every minute of your visit.
Miami Vacation meets Broadway's – Finding Neverland
When: December 26 through Sunday, December 31
Where: Adrienne Arsht Center for the Performing Arts, 1300 Biscayne Blvd, Miami, FL 33132
A unique treat this Holiday season is a Broadway Show at The Adrienne Arsht Center. Engage your family in a Broadway experience – way Off-Broadway. The winner of Broadway.com's Audience Choice Award for Best Musical, this breathtaking smash "captures the kid-at-heart," says TIME Magazine. Vogue cheers, "It's a must-see you'll remember for years to come!".